Major UK Infrastructure Projects: International Shipping Impacts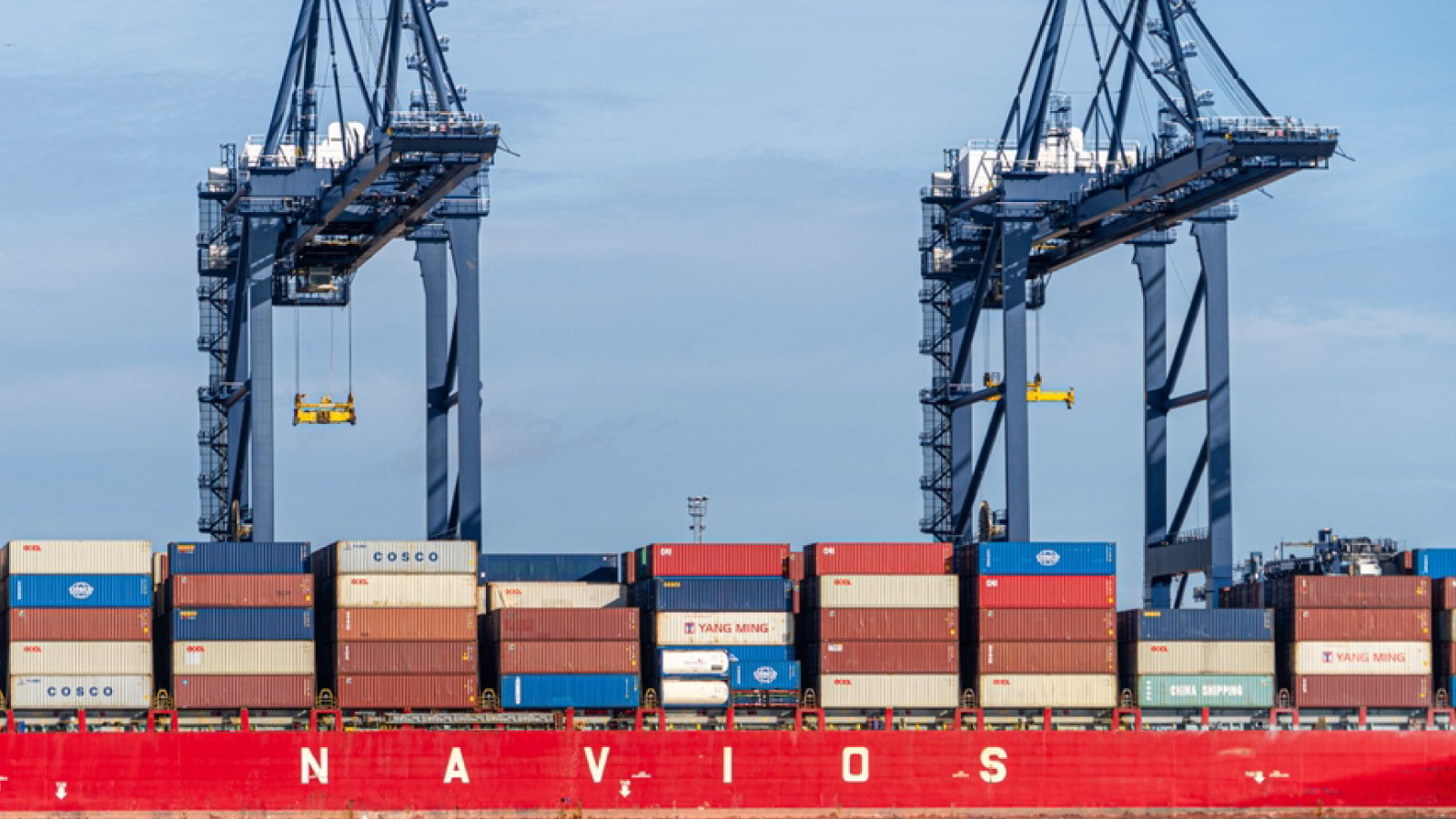 Economists predict a challenging year for the UK, with stagnated GDP, staffing issues, political instability, continued inflation, and more. But there is some good news: There's growth on the horizon for both physical and digital infrastructure, largely due to government contracts that will aid with post-Brexit competition.
Here's a look into upcoming UK infrastructure projects and their anticipated effects on international shipping.
Five major UK infrastructure projects to know about
London Gateway port additions. Construction on a newbuild facility within the Port of London to increase container shipping capability and efficiency initially began in 2010. The first phase of DP World London Gateway port opened in 2013, and expansions expected to create 10,000 jobs and increase access for larger ships and cargo vessels should be completed by the end of this year.


The new London Gateway port is set to become the largest multi-modal logistics and business park in the South East of England, thanks to its location close to the UK's largest consumer markets in London and the South East, a terminal capable of handling the largest deep-sea container ships, an empty container park for import and export of empty containers, and the UK's longest rail terminal.

To handle more traffic, the port will add berths and railway lines from London to Dover by the end of the year, hopefully resulting in less congestion and fewer delays from weather events. The expanded rail access is also expected to improve speed and sustainability; fewer trucks on the road will reduce both road congestion and the carbon footprint of containers.

Heathrow Airport expansion. This year, the longstanding and controversial conversation about adding a third runway to Heathrow Airport continues. Proponents who support the project say that an additional runway will increase capacity and resilience. There are also proposed enhancements that would redevelop and consolidate the airport's existing cargo handling facilities, add freight forwarding warehouses and a truck park, and introduce innovative and environmentally sustainable technologies and transport modes.

The expansion of Heathrow Airport is anticipated to streamline passenger and freight travel, reduce congestion, and increase aircraft movements by 280,000 per year — an increase of more than half. However, opponents of the new runway say the project is at odds with climate targets, would require many individuals and businesses to relocate, and would increase noise and air pollution in the area. According to Heathrow Airport chief executive John Holland-Kaye, the pandemic brought to light the need for expansion, and while there is no time frame as of yet, project announcements will be made later this year.

M1 Smart Motorway upgrade. Another controversial project in progress is the £8 billion upgrade to the M1 Smart Motorway, a busy strategic route where technology monitors and controls traffic flow. The M1 motorway upgrade, expected to be completed in 2026, will add new junctions, extra lanes, emergency areas, and improved traffic management systems.

Features such as variable speed limits, CCTV cameras, enforcement cameras, and enhanced signs and signals could improve safety, alleviate stop-start traffic, and cut travel times by up to 15%. However, debates over smart motorway technology continue because the constantly-changing speed limits and traffic information have caused confusion and contributed to fatal accidents. There is also concern about where materials for the upgrade are coming from and whether it will impact freight volumes.

High Speed 2 (HS2) rail network and Crossrail 2. Two new UK high-speed rail projects are set to complete in 2033 and create up to 15,000 jobs. . The HS2 rail project between London and Birmingham, with connections to Leeds and Manchester, is expected to release space on the current network for more local, regional, and freight services; bring together Britain's largest economic regions; cut carbon emissions; and reduce travel times between cities by as much as half. The construction of a new rail link between London and West Midlands is also underway.

Meanwhile, Crossrail 2 is a proposed £30 billion railway project that would provide a new North-South rail link across Greater London by 2030-2033, significantly improving capacity by offering an alternative to the crowded Victoria line and alleviating pressure on mainline rail routes in the South East.

Single Trade Window and digital infrastructure. Infrastructure isn't just physical; new digital infrastructure is also a big focus for the UK. One example expected to be completed this year is the transition from the Customs Handling of Import and Export Freight (CHIEF) system to the Customs Declaration Service (CDS). CDS will more effectively handle the complexities of post-Brexit EU customs requirements.

A new undertaking is the Single Trade Window. Aimed at improving and streamlining border security, the Single Trade Window is a single point of entry for border data, eliminating the need for users to submit the same data to various border authorities through multiple portals. The digital-first experience would help uncomplicate the international trade process by reducing the administrative burden for businesses to comply with UK import/export obligations, improving border flow, and lowering entry barriers for international trade. The "tell once in one place" system would also eliminate duplicative processes, enhance data sharing across border agencies and the supply chain, and reduce costs.

However, there is still much discussion about what is needed from the system, how it will be funded, and whether there will be user fees or investment requirements by traders. For now, the 2022 consultation paper from the UK government about the Single Trade Window aims to define features that inform how the system will work.
Action plan: Nationally Significant Infrastructure Projects
A big hurdle for many of these UK infrastructure projects will be getting government permitting and approvals — which can be timely and costly. To hasten the delivery of all these projects, the UK government has created a Nationally Significant Infrastructure Projects (NSIP) action plan, with measures that will streamline the planning processes, fast-track building to enhance economic growth, improve national connectivity, strengthen energy security, and deliver Net Zero carbon emissions.
Some focuses of the action plan include:
Regular reviewal of National Policy Statements

Speeding up the application process by streamlining regulations and updating guidance

Reforming environmental regulations around new development and creating the Environmental Outcomes Report, which will make environmental protections more effective

Strengthening community engagement through more support and knowledge sharing

Measures to help infrastructure developers get the early expertise they need
Navigating the ever-changing transportation landscape
It's clear there are many changes ahead, both in 2023 and beyond. That's why it's essential to partner with industry experts who can help you future-proof your business against an unpredictable international shipping landscape. At DDC FPO, we're always on top of the latest updates, delivering best-in-class service even as shipment volumes fluctuate.
Strengthening the protection of EU citizens/internal market against security and safety threats

Allowing EU Customs authorities to identify high-risk consignments better and intervene at the appropriate time

Facilitating cross-border clearance of legitimate trade

Simplifying the exchange of information between Economic Operators (EOs) and EU customs authorities
According to the Taxation and Customs Union, ICS2 will "enable early identification of threats and help customs authorities to intervene at the most appropriate point in the supply chain."
How will ICS2 impact you?
The ICS2 rollout is happening in 3 phases, each affecting different operators and modes of transport.
Release 1 went live in 2021, requiring express carriers, European-based postal operators, and third-country postal operators shipping to Europe by air to submit pre-loading advance cargo information (PLACI).
ICS2 release 2 is now live as of 1 March 2023. During this phase, all goods entering the EU or Northern Ireland (NI) by air — including postal, express, and general cargo consignments — will require pre-arrival Entry Summary Declaration (ENS) data and the pre-loading filing. These requirements apply to freight forwarders, logistics providers, and air carriers.
Importantly, throughout this phase, all goods entering NI via air will require the following ENS data to be submitted via ICS2:
Pre-loading advance cargo Information (PLACI)
Pre-arrival notifications
Arrival notifications
"Presentation of goods" notification upon arrival in NI, completed using an Application Programming Interface (API)
Declarations through EU Shared Trader Interface (EU Customs Trader Portal)
Release 3 goes live 1 March 2024, at which point all goods entering the EU or NI, including those transported by rail, road, and maritime modes, will require full entry summary declarations. This means that all carriers, regardless of the mode of transport; logistics providers; freight forwarders; and, in certain circumstances, final consignees established in the EU, must submit ENS data to ICS2.
Preparing for ICS2
As with any new customs system, you don't want to scramble for compliance at the last minute; if ICS2 data are incomplete or submitted incorrectly, consignments and freight can be stopped at EU customs borders and may be subject to intervention with penalties.
If your organisation will be subject to the Release 3 rules starting on 1 March 2024, it's time to align your business processes with the regulatory requirements of the new system. Here are some planning tips:
Prepare to update your IT system, including any required APIs.
Determine to what extent your customs processes will need to change, what those changes will entail, and how you'll implement them.
Train your staff on the new ENS data requirements and any related process changes and IT changes.
Determine whether you must scale your team to account for an increased workload. Consider working with a business process outsourcing partner for cost-effective recruiting, hiring, and training.
As we've seen with other recent system changes (e.g., CHIEF to CDS in the UK, AGS to DMS in the Netherlands), preparation is the key to success during the transitional period. The sooner you start planning, the better equipped your team will be to manage change when release 3 comes around.
For more information about ENS declaration requirements, refer to the UK Government and the European Commission Taxation and Customs Union.
Need help preparing your organisation for the next phase of the ISC2 rollout? Contact us to learn how we can support your success.
Connect with Us
Clear customs faster with DDC FPO, a trusted strategic partner for transportation and logistics companies worldwide.
How Can We Help You?
Get in touch to learn how we can support your success.
Get Started
Subscribe to Our Blog