FAQs: Answers to All Your Questions About Freight Billing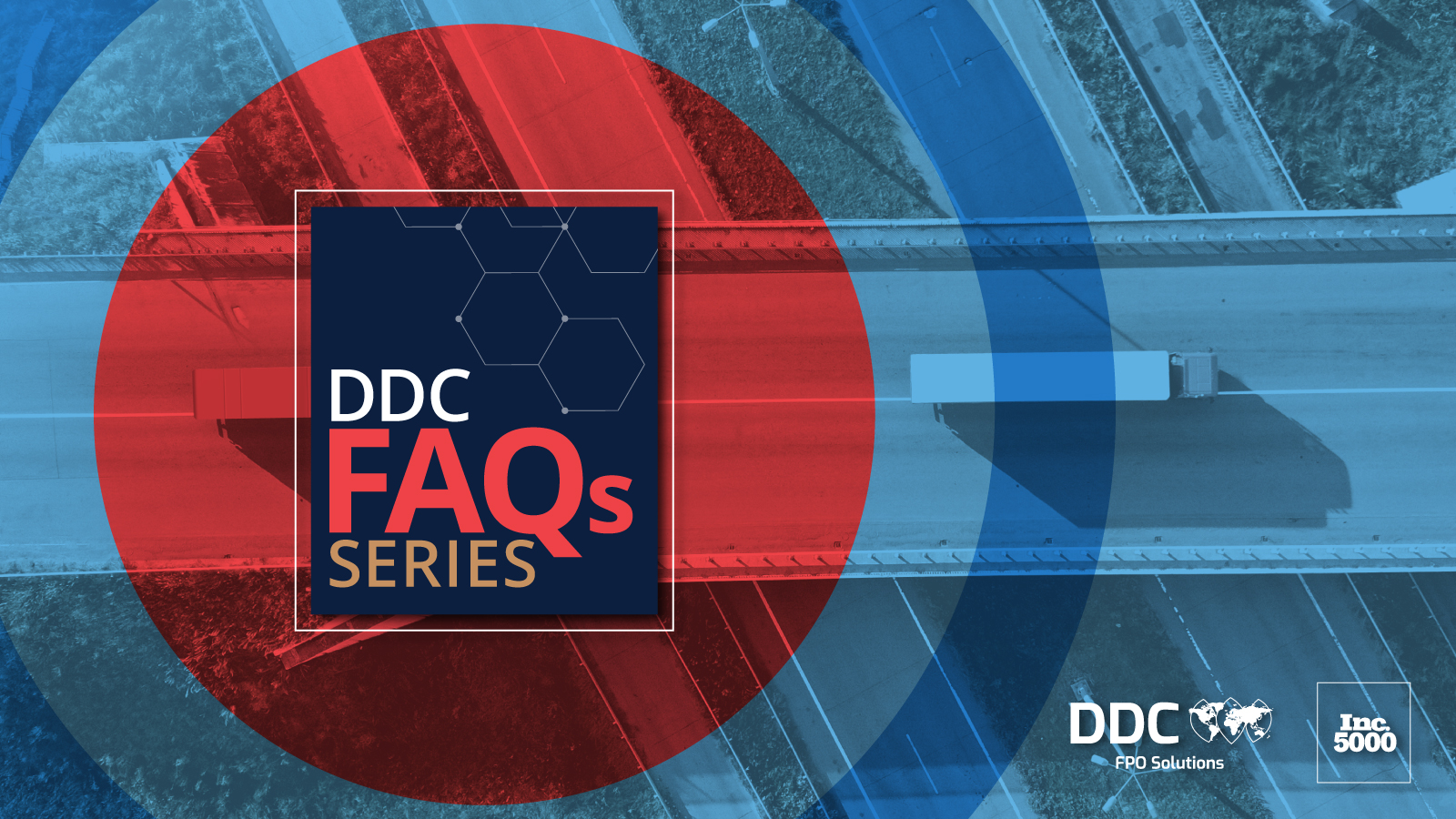 DDC FPO is currently responsible for one-third of all LTL bills in North America. We proudly support our partners with rapid processing, accuracy, long-term cost containment, and reliable business continuity.
We receive a high volume of inquiries about how these freight billing programs work from Freight Process Insights subscribers, so the FPI team decided to compile answers to those most asked questions. FAQs for other solutions are also being provided as part of this FAQs series.
If you have a question that is not answered in this article, please email education@ddcfpo.com.
What is the benefit of using DDC for

f

reight

b

illing

s

olution

s

?
DDC clients report many benefits from implementing our freight billing solutions. These range from significant cost savings and increased profitability to faster cash flow, improved experiences between DDC's clients and their customers, and scalable, reliable business continuity. These benefits are made possible by DDC's best practices, commitment to quality, and guaranteed service level agreements.
For example, upon project launch, most DDC clients experience between 40% to 60% regained spending power in their operational budgets immediately. We offer around-the-clock processing for rapid turnaround and quality standards that meet (and often exceed) pre-existing accuracy standards of our clients. Higher quality data that is processed faster expedites our clients' accounts receivables, enabling invoices to be sent and paid out sooner.
DDC offers clients dedicated teams of billing experts with built-in redundancy to mitigate any risks to continuity. Additionally, as DDC clients express relief by reallocating preassigned billing staff to more strategic roles and duties, they do not have to worry about staffing for the peaks and valleys of back office volume or be concerned about external market forces. For more benefits on DDC's freight billing programs, visit: Freight Billing | Outsourced Processing
What is required for DDC to provide a quote for freight billing solution

s

?
None of DDC's solutions are one-size-fits-all or "cookie-cutter." Each program is custom-built to meet each client's specific goals. For this reason, DDC does not provide boxed quotes on demand.
If a company is interested in receiving a price estimate for a DDC billing program, we begin with a non-disclosure agreement signed by both parties. We then enter a discovery phase that our experts have established by proven best practices based on DDC's 33 years of business process experience and 17 years of specialized freight experience.
The discovery phase begins with a questionnaire and follows several steps to guarantee that the program quoted will be implemented successfully for your business and will achieve your desired outcomes. To learn more about the steps in this phase, contact us.
How is accuracy measured?
DDC uses proven methods and key performance indicators for each service level to guarantee that our agreed-upon service levels are delivered. For the accuracy agreement specifically, DDC most often measures the quality of data processing per record, field, or both.
If clients approach DDC with a pre-existing set of metrics and/or methodologies being leveraged to measure the accuracy that they wish to maintain, DDC is pleased to support them and accommodate their wishes. These will be provided in addition to DDC's internal method to track quality and ensure the service level desired is sustained.
What is the time frame from

the

first conversation to going live

?
The speed of the discovery phase and the implementation and rollout phases primarily depend on the prospect's timeline and preferred pace. Sometimes, it may take up to two months, but this time frame varies.
How long will it

take for

DDC billers to become

proficient

in

billing in my system

?

Because of DDC's footprint in the billing industry, we have succeeded with a wide, deep, and diverse span of systems to support various transportation and logistics service providers. In most cases, DDC is immediately highly proficient in utilizing the billing system of our client's choice.

However, we prioritize addressing and understanding unique adjustments for client-specific preferences, goals, and processes, and we will learn each client's unique rules and preferred operating procedures for performing functions within each system. Additionally, we tend to hire and promote billers from within first. This ensures they will become proficient in each new client's systems faster, as they already have experience working with many similar systems – or even the same.
Does DDC process all types of BOLs, such as Hazmat? If so, how does DDC ensure 100% compliance with federal regulations

?
DDC can process any and all types of bills, including Hazmat. We have trained and certified Hazmat billers as part of our in-house resources. For most programs, our Hazmat bill entry rules match the client's preference, ensuring that the UN number, shipping name, class, and group number are included in the appropriate fields to meet federal regulations.
However, if a client approaches us with a unique set of requirements for their Hazmat processes, we will support them and accommodate their wishes in addition to our methods to ensure 100% compliance with federal regulations.
What systems does DDC use to process the BOL data

?
DDC is system-agnostic and strives for each client's dedicated team to serve as a direct extension of each client company. We can utilize any systems our clients prefer to process BOL data. We can also make recommendations to help you achieve your goals if a system consultation is requested based on our knowledge and expertise. We have experience using almost every system, including client-proprietary technology. Some that we see and work in include, but are not limited to, CLI, EBS, Desktop GUI, AS400, McLeod, WFMS, and Truckmate.
Additionally, DDC's robust IT resources grant us extreme flexibility and interoperability. Our teams can develop and engineer software as necessary or leverage our high volume of integrations built to date to ensure each program has the best system interconnectivity and workflows to meet each client's goals. Read more about our award-winning IT team: Inbound Logistics' Top 100 Technology Providers for Transportation: DDC FPO Named for Second Consecutive Year.
W
hat is the

high-level

DDC billing process

?

For our standard programs, the client-dedicated team of billing experts - including onshore account managers, supervisory staff, experienced billing, quality assurance, and reporting agents – oversee and handle the process from beginning to end. DDC Intelligence follows a different approach using machine-learning technology to process more bills faster with context-based AI programming. To learn more about DDC Intelligence, visit DDC Intelligence | AI Data Capture Technology.

The process for each bill of lading is completed quickly and within the agreed-upon service level for turnaround. After the driver has scanned an image, a DDC billing agent will retrieve the images from the process' predesignated viewer, folder, or otherwise indicated and mapped environment; they will review the BOL image to ensure all pertinent information is present for the bill, and ensure that the image is legible. If pertinent data is missing from the image or the bill is illegible, the billing agent will send a request for the missing data or rescan. Next, the agent will enter the billing data from the image into the system and submit it via the client-preferred method and format for invoicing.
W

hat is DDC Intelligence

?
DDC Intelligence is an AI-powered billing solution that leverages machine-learning technology, industry experience, and bill of lading expertise to accelerate collections by the carrier's accounts receivables (A/R) team. Growing smarter with each BOL it touches, the solution is designed as a three-tier model that is fully customizable per client preferences. DDC Intelligence formats and integrates with your existing workflows, can capture skeleton data, expedite entry, and promote process improvement.
How freight billing with DDC Intelligence works:
The document image is received from any partner-preferred source.

Documents are classified based on content, reducing manual sorting at scan time.

Field and line-item data are extracted based on context via machine learning.

Learned information is reconciled against known sources to ensure accuracy.

Data is seamlessly exported and integrated into the partner-preferred enterprise application.
To learn about Estes Express Lines' experience with DDC Intelligence, read this case study.
How does DDC guarantee business continuity

?
Our team of experts protects you against unforeseen circumstances, such as COVID-19, with reliable business continuity delivered by our multiple strategic operating locations worldwide. For example, our freight bill entry and processing programs have built-in redundancy leveraging multiple sites. This ensures scalability, elasticity, and resiliency in carrier workforce planning.
What shifts do DDC billing agents work?
DDC FPO runs 24/7/365 operations. As our teams serve in a committed fashion as an extension of each client company, we also work in the shifts and hours indicated by each client's needs to achieve goals and successfully realize desired outcomes for each program.
W

hat format bills does DDC require? Does it matter how they are scanned or submitted for processing

?
Just as DDC FPO is system-agnostic, we are format-agnostic as well. DDC is highly flexible and can accept any image clients prefer to submit. Many clients provide TIF and PDF formats of scanned images for billing. However, differing systems and formats can be accommodated to ensure customized program success.
Is auditing included

?
Yes, auditing is included. DDC prides itself on having quality control agents dedicated to every client program, and we have a continuous improvement protocol in place to uphold progressive quality standards. If any errors do happen, we have retraining programs to thwart recurrence. We are pleased to work with clients collaboratively on a feedback loop.
W
hat is the

difference

between the included auditing and DDC's Freight Rate Auditing service

?

The auditing that is included with the freight bill process guarantees the quality of the freight bill information that is entered, ensuring that freight is delivered properly and that any unnecessary fees or fines are prevented.

DDC's Freight Rate Auditing solution is delivered as a separate service and applies expertise, scalability, flexibility, and system compatibility to examine, adjust, and verify carrier freight rates for accuracy while maintaining tight data security controls. This is provided after the bill entry is complete. Fields such as rates and fees are audited, recalculated, and confirmed to ensure that each customer of the transportation or logistics provider receives the correct information when invoiced. This provides faster payments, improves CX, and protects your revenue.
How our Freight Rate Auditing service works

:
After the bill entry is completed, a DDC FPO dedicated rater verifies your specified fields (e.g., freight term, accessorial charges, destination of shipment, pieces, weight, quote code, etc.) to rate the bill with correct pricing discounts properly.

If the rate is incorrect due to data discrepancies, DDC FPO reviews and makes the necessary corrections, then recalculates to the correct rates.

Bills of lading can be placed on hold for confirmation if recalculations are not solving the discrepancies.

Recalculations are verified, and rates are marked as complete.

You can properly invoice your clients.
To learn more about Freight Rate Auditing, click here.
W

hat if the BOL is messy, crinkled, or has handwriting on it

?
If a bill of lading is illegible or pertinent data is missing, and the bill is not captured using the DDC Sync smart OCR technology, nor is it being processed via DDC Intelligence, the billing agent can put the bill on hold and email the client's point of contact to request a rescan or a new image.
The bill is then addressed by the client's point of contact and resubmitted. Once the rescan is provided, or the bill is fixed and placed back into the system, the billing agent will take the bill off hold and process it. If a client's pre-existing billing system has a preferred place where billing agents may flag and tag a bad image, the agents will adhere to the rules.
To learn more about DDC Sync's smart OCR capture of bills, click here.
Beyond time and cost savings, how do freight billing solutions help my business grow

?
The time, resource, and cost efficiencies enable client teams to operate strategically, focus on growth, and accomplish more. For example, clients have reported that with rapid and more accurate processing, they can cut hours out of their linehaul, promise shorter delivery windows, accept more loads, and retain and grow their customer base. Click here to read our case studies.
Aside from regaining these capacities to facilitate business development growth, DDC provides clients with scalability, flexibility, and a robust business continuity plan to grow operations without eating margins. DDC clients utilize their knowledgeable team members in-house in other capacities that will extend growth in other areas within your company.
How Can We Help You?
Get in touch to learn how we can support your success.
Get Started
Subscribe to Our Blog