Our Commitment To You Hasn't Changed.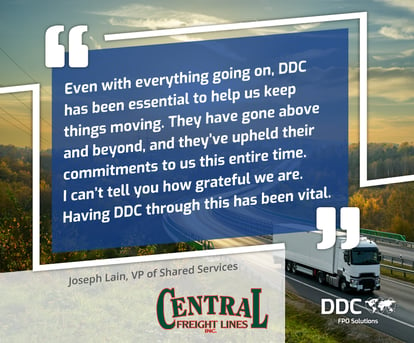 The market volatility caused by the novel coronavirus, "COVID-19", has exacerbated the global supply chain, with many transportation and logistics decision-makers reeling in shock as they plan their next move. We're here to help.
We are privileged to support this industry today and every day with reliable business continuity. We prioritize transparency and timeliness in our service delivery and our communication with our partners, while simultaneously working in tandem with the government agencies where our teams live and work in order to aid in the fight against this pandemic.
If you'd like to learn more about DDC's business continuity and how it's helping today's top carriers and 3PLs keep moving, Contact Us now.
Here are some useful resources to help you learn how the market is being affected by COVID-19:
If you are considering BPO for future business continuity, our experts advise that you prioritize these criteria in your search.
This Quarterly LTL Market Update ft. DDC's own Donna Kintop covers trends in volumes, rates and capacity, and forecasted changes due to current and predicted events.
The below webinar we recently presented in partnership with FreightWaves dives deep into the data for exactly how, where and when this pandemic is most impacting the global supply chain:
If you have any questions or concerns, we're here to help.
Email us anytime at info@ddcfpo.com or simply fill out this Contact Us form.
---