Despite turbulent times, carriers investing in technology are weathering the storm and planning for the future.
Carrier Logistics, Inc. (CLI), a provider of freight management software for Less-Than-Truckload (LTL) fleets, reports that a growing number of LTL carriers have adopted its FACTS™ transportation and freight management system in 2020. As an integration partner who supports shared clients with our business process programs, we've asked CLI to share their findings with our Freight Process Insights subscribers.
Transportation management solutions have become a key technology and continue to be an investment priority, noted Gartner in Key Considerations for Supply Chain Leaders Evaluating Transportation Management Systems, a white paper published in May 2020. Especially in times of disruption, the research and advisory company added, transportation companies are looking at technology to mitigate the impact on their operations.
To address ongoing challenges and especially those brought about by the impact of the COVID-19 pandemic, freight and logistics transportation companies have heeded that call to action by making smart investments in comprehensive transportation management systems. They are, as the paper also pointed out, making it through rough times by carefully analyzing the role transportation technology can play in improving transparency, productivity and customer satisfaction.
The increasing adoption of CLI's FACTS™ transportation and freight management system is a testament to how fleets are investing in critical technologies that improve operations.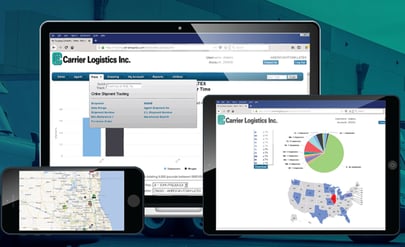 One of those companies is PavXpress Inc. The New Jersey-based carrier fields more than 35 power units and has over 36,000-sq ft of warehouse space to provide LTL distribution services for shippers and truckload carriers within 100 miles of New York City and Philadelphia.
PavXpress has been deploying and testing FACTS, including working with two of its major carrier partners to use the system's EDI integration capabilities. The company will be enabling the FACTS pricing and rating module so customers can request quotes and receive rates online, as well as the system's shipment entry and route planning tools, and its financial suite.
"While we've successfully managed our operation and growth on paper for many years, we realized that the right transportation management software could make us more productive," said Christian Pavlik, manager of PavXpress. "FACTS simplifies our freight and transportation management processes and eliminates a lot of extra steps, lightening the load on our staff and improving efficiency across our entire operation. From order entry to billing, the system frees up our internal resources and provides access to information for everyone, which leads to a huge improvement in customer service."
Today, with the growing availability of affordable solutions, more companies than ever are exploring how an investment in transportation management technology can streamline processes, lower costs, and enable them to compete more effectively and bounce back from disruptions. That also includes smaller companies without large capital resources.
As transportation management technology continues to advance, there will be even more opportunities to use advanced systems to weather disruptions and realize new opportunities for growth and success. Using proven methods, suppliers stand ready to help companies measure, analyze and ultimately raise the value of their technology investment for the long haul.
"Clearly these are uncertain and unprecedented times," said Ben Wiesen, president of CLI. "But we are pleased to note that many carriers are using this as an opportunity to augment or upgrade their technology. To us, this reflects how transportation companies recognize that an investment in software pays dividends, even during the pandemic-driven shutdown that impacted freight volumes."
DDC's proprietary technologies integrate seamlessly with the FACTS transportation and freight management system, which can be deployed across a network as a single database to manage all administrative and operations functions. FACTS includes a complete financial suite, and the FACTS Deal Management pricing and rating module. For more information, visit www.carrierlogistics.com.
CLI Contributing Author: Craig Lis | Marketing & Communications Director | Carrier Logistics Inc.