8 Reasons to Choose DDC Intelligence for AP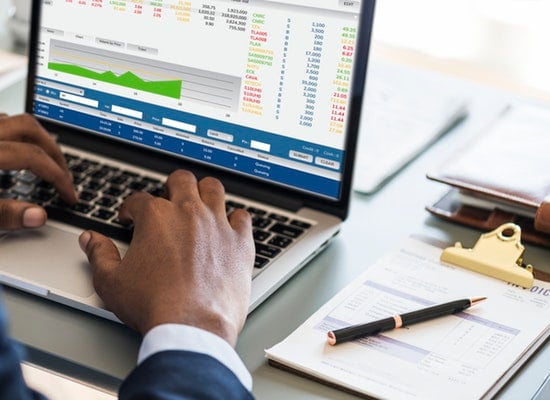 The energy and potential of most AP staff is still being wasted on repetitive and tedious tasks and routines like reading and keying invoices, orders, remittances and other documents day in and day out.
Over the years automation has been blamed for displacing these routine jobs, but the reality is that reducing manual tasks and freeing up company resources, (i.e. human capital), to re-focus on core business functions is a key driver of productivity and elevation of living standards.
DDC Intelligence, powered by Perceptive Software, is DDC's intelligent capture solution that goes beyond elementary invoice processing, allowing businesses to act faster— gaining productivity, improving customer satisfaction, and in the case of AP, turning this efficiency into increased ROI.
1. Reduced Cycle Time
Cycle time is significantly reduced with DDC Intelligence's continuous advanced pattern recognition technique.
Our intelligent capture solution:
Recognizes and sorts documents quickly by actually reading the documents' content, eliminating bottlenecks caused by physical document handling and inefficient manual data entry.
Extracts and interprets document data, and validates it faster than any human by matching extracted line item data against GL codes, appending it to the invoice automatically.
Enables the instant transfer of captured information into any business system where it can be searched, analyzed, acted on, and synchronized with existing data elements.


2. Improved Accuracy
The idea of feeding a stack of diverse documents into a scanner, walking away, and allowing the attached computer to pay the bills—or do some other crucial task—might sound like a risky proposition, however, DDC Intelligence's self-learning capability allows for the AP office to rid itself of the phrase "human error" almost entirely.
DDC Intelligence is engineered to:
Identify and make sense of a wide variety of documents, regardless of size, formatting, use of symbols, and image quality.
Rapidly validate the data it finds against existing back-end system information, even when it's not identical.
Routinely achieve an average field-level extraction of 90% or more out of the box and is able to spot unreadable data or results outside of predetermined accuracy thresholds, then pass these incidents to an operator to fix, or make a decision.
3. Compliance Power
As regulatory requirements for businesses increase and businesses are required to limit access to sensitive data, DDC Intelligence allows businesses to report on, and potentially defend the activities in which they are engaged.
Beyond the security controls provided by most intelligent data capture systems, DDC Intelligence:
Supports automated ways in which to index, search, and with proper privileges, compile documents needed for discovery or other legal proceedings.
Provides automated logging of user activity and approvals, representing an audit trail that can provide evidence of who did what, and when.
4. Massive Scalability
Our intelligent capture solution enables document management from small to large-scale volumes— through a shared service or outsourced environment— providing around-the-clock service and support.
DDC Intelligence's reliable technology:
Allows companies to outsource or set up a shared service environment for AP operations to a single location and establish standardized global protocols for invoice processing.
Capabilities support efficiency goals of any large-scale financial operation by handling multiple languages, countless document formats, and a complex array of regional compliance needs.
5. More than OCR
All intelligent capture technology was developed to remove the pain from handling paper, but today's data flows call for management of "virtual paper."
While traditional front-end capture programs still require manual on-screen reading and interpretation, DDC Intelligence allows for:
Virtually any file format—including HTML forms, PDFs, EDI feeds, XML, and other document sources—to be read and interpreted just like a piece of paper, without inherent optical limitations of scanning.
6. Reporting and Analysis Support
There is no need for blind faith in DDC Intelligence. This intelligent technology supports rapid compiling of detailed information from invoices, comparing and measuring data between business units, and gathering of data for use in quality improvement initiatives like Lean and Six Sigma.
This advanced system allows for:
Companies to procure batch status, operator statistics, and extraction accuracy.
Utilization of serious reporting and analytics tools to help clients gain immediate insights about document processing operations.
Integration of third-party tool reporting such as Business Objects or Crystal Reports.
7. Instantaneous Processing
Following a short installation and configuration period based on processing small number of sample documents and a short testing period, DDC Intelligence is ready to process any type of unstructured invoice without:
Templates
Keywords
Exact definitions
Taxonomies
Indexing
8. Increased ROI
Lastly, and most importantly, DDC Intelligence allows almost instant return on investment by:
Reducing costly manual data entry by more than 80% with quick turn-around.
Improving process flows resulting in increased approval of invoices and reduction of lost invoices, potentially recovering large amount of lost revenue and improving productivity.
DDC USA offers innovative invoice services to support, strengthen and streamline the accounts payable processes for clients across a wide range of industries. Our dedicated, highly skilled, and APSC-certified staff at DDC will improve management and control for your AP team. To sign up for a free demo, please submit a request using our contact form.
How Can We Help You?
Get in touch to learn how we can support your success.
Get Started
Subscribe to Our Blog