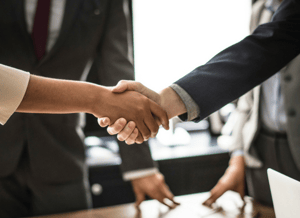 The worldwide leader in boutique BPO solution-design is bringing a new solution to the Shared Services and Outsourcing Week (SSOW) exhibit.
The DDC Group, a leading provider of customized business process outsourcing (BPO) solutions for AP and shared services, has announced the Shared Services and Outsourcing Network (SSON) premiere of its unique invoicing solution, DDC Intelligence for AP, to take place on the SSOW exhibit floor at booth #212, March 10-12 in Orlando, FL.
The recent addition to DDC's suite of hybrid shared service offerings uses highly intelligent, context-based technology that eliminates human error, enabling customers to streamline mission-critical data to ERP systems more efficiently and accurately than ever before, revolutionizing accounts payable for today's leading multinational corporations.
Recently DDC's VP of project development for North America Teresa Peyton shared how DDC Intelligence for AP was implemented for a global manufacturing client on stage at an Institute of Financial Management (IOFM) event in Las Vegas, NV.
As presented in the case study, which is now available by request via info@theddcgroup.com, the client had a paper-intensive process across three different global sites that needed a total of 500,000 (approx.) invoices processed annually. DDC was chosen by the client's invoicing vendor, Direct Insite, as a strategic scanning partner for its DDC Intelligence for AP solution, as well as: the company's global reach, multi-language capabilities, data enrichment and competitive pricing.
Shared services & outsourcing network
"With DDC Intelligence for AP's proven results, including 2 to 40%+ improvement in processing rates and additional sites worldwide being added to the program, we are excited to introduce this solution to the members of SSON," said Art Zipkin, The DDC Group's president of sales for North America.
DDC Intelligence for AP captures data from critical fields that other solutions do not and is fully customizable. The program itself grows smarter with every invoice it processes, allowing for significantly enhanced quality and efficiency in AP management, as well scalability and accelerated turnaround time.
Users will experience:
Significant reductions in manual entry from the beginning
$0 capital investment
No intensive IT setup
Intelligent learning of data sets, ensuring improvement in accuracy rates only
Rapid turn around time
Exporting to any client-preferred system
Unique visibility reports
Zipkin hinted that the company may be considering a SaaS-based version of this solution for the future.
In addition to the live demonstrations, DDC is launching a new research initiative at SSOW to gain a deeper understanding of how the AP landscape is evolving. Survey participation at the company's booth #212 will include entry into a sweepstakes drawing for multiple, high-value prizes.
Following the SSON Shared Services Outsourcing Network premiere, DDC will continue to present live demonstrations of Intelligent Capture for AP at other industry-leading events, including IOFM AP East Conference in Orlando, May 18-21, 2015 and the annual Controllers' Conference and Expo in Chicago, September 9-11, 2015.
Free, web-based demonstrations of The DDC Group's DDC Intelligence for AP are also available, by appointment only.
About The ddc corporate partners
The DDC Group has been custom-designing and implementing knowledge-intensive business process outsourcing (BPO) solutions since 1989. With operations across North America, Europe, and Asia-Pacific, the company's 3,500 strong staff delivers services in over 40 languages with ahead-of-the-curve industry standards. DDC's hybrid shared service delivery model equips its clientele with strategic BPO solutions fundamental for each organization's future profitability.