RPG Programming and the Future of AS/400 in Freight
Mar 24, 2021 1:33:00 PM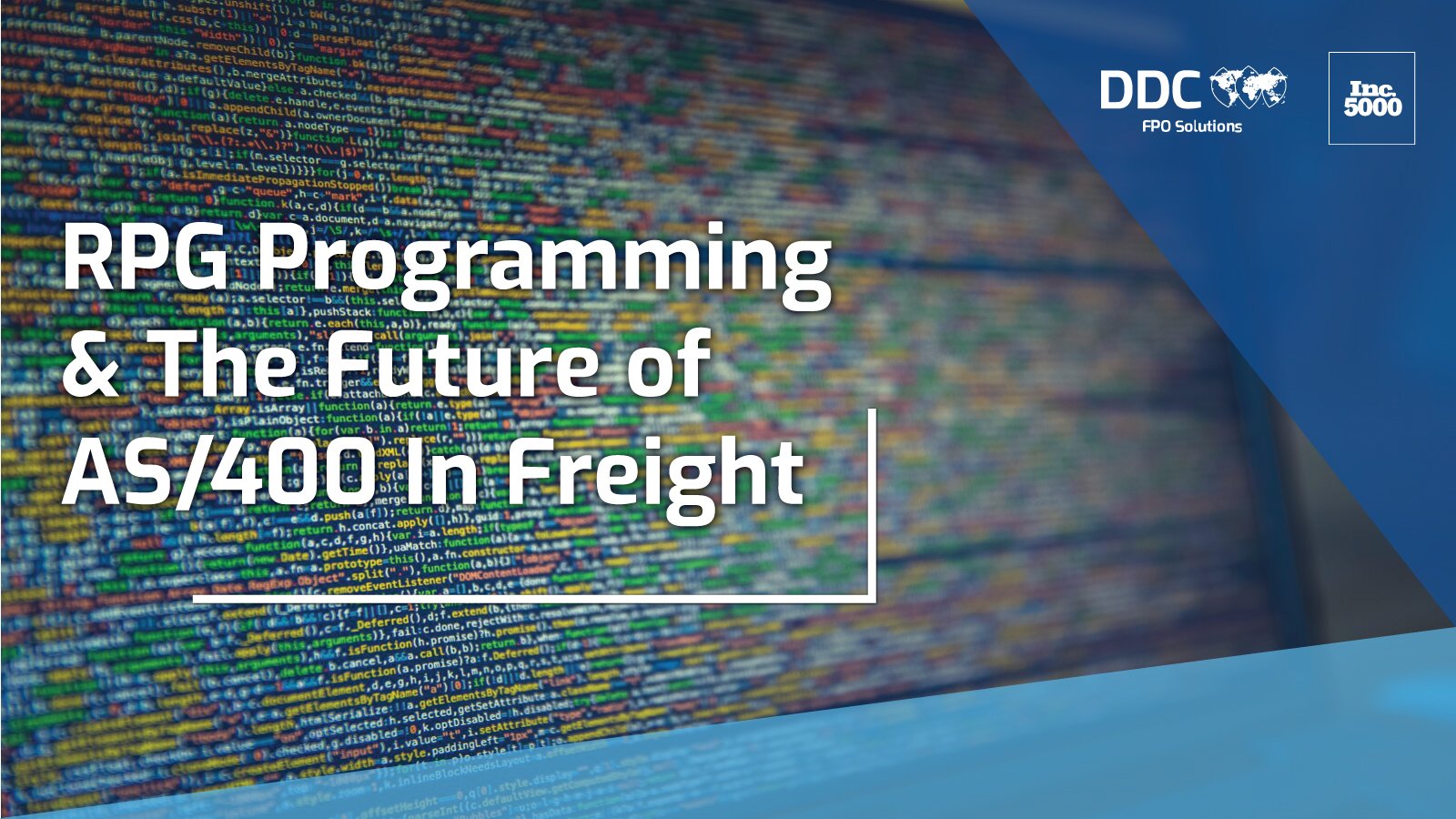 Although the freight industry has a reputation for thriving on cutting-edge technologies like artificial intelligence (AI), the internet of things (IoT) and data management, some transportation companies still have one foot firmly rooted in the past.AS/400 technology is still at the core of many freight broker ERP softwares and IT infrastructures, and developers familiar with RPG programming are required to maintain those systems. However, over recent years, RPG has declined in popularity, so access to developers with that particular skillset is limited, especially as many of the developers versed in it retire without a ready replacement available.
It's a bit of a catch 22: AS/400 persists, but those entering the workforce are unfamiliar with the technology as it becomes less relevant, creating very high demand for developers with RPG programming language experience.
A brief history of AS/400
In 1988, IBM introduced the Application System/400 (AS/400), a family of easy-to-use computers designed for small and medium-size companies. The global rollout also consisted of more than 1,000 software packages with the OS/400 operating system from IBM and IBM Business Partners. At the time, it was one of the biggest simultaneous applications announcements in computer history, according to the IBM.
AS/400 was incredibly popular, with features including: single-level storage, where the entire storage of a computer is seen as a two-dimensional plane of addresses; an integrated OS; and Technology Independent Machine Interface (TIMI), a virtual instruction set that allows the OS and application programs to take advantage of advances in hardware and software without recompilation. Basically: It was streamlined, highly reliable, safe and nearly unhackable.
In 2000, the AS/400 was succeeded by the IBM eServer iSeries, which were high-performance, integrated business servers for mid-market companies. The hardware and the software of the AS/400 have gone through many upgrades, revisions and name changes over the years, but one of the persisting features is both the continued use of its name colloquially and its upward compatibility. (Note: Though many in the industry call their system an AS/400, the modern hardware is Power Systems, which runs an updated operating system, IBM i.) RPG programmers can still run programs created for the AS/400 in 1988 on a Power Systems server today with little or no changes.
As technology continues developing, AS/400 has remained essential to and beloved by industries that value data safety and stability over everything else, like freight, manufacturing, and finance.


Where do we stand now?
Many businesses still rely on legacy AS/400 technology as part of their core IT operations, but it's increasingly difficult to find people who know the RPG programming it requires. There are some options available to get around hiring someone with specific knowledge of the system; for example, Google and Microsoft offer cloud hosting, which allows companies to link their AS/400 with more modern technologies.
Generally, though, many organizations are currently faced with a conundrum: Replace legacy technology altogether -- which is incredibly expensive and disruptive -- find the elusive and costly-to-hire RPG programmers who can run the current system, or divert resources to find ways to modernize the existing system?
At the same time, there are many who argue that there is, in fact, no conundrum: With good planning, new IBM systems should keep running well into the future. According to this side of the debate, there are a few key reasons you shouldn't second-guess your AS/400, namely:
It's scalable.

It's secure.

It's reliable.

It's internet-enabled.

It has upward compatibility.

It's modern, supporting a mix of native and open source development languages.

With some advance planning, RPG programming can be learnable for newcomers.
What's ahead for RPG Programming?
Only you can make the decision for what's best for your business, but there's a great case to be made for sticking with the reliability of the legacy technology while modernizing alongside it. According to many thought leaders, it's not essential to migrate away from AS/400; overall, it remains affordable, energy-efficient, powerful, migratable and compatible with modern technology.
Of course, as with any aspect of business, it is important to stay on top of the conversation around best practices, efficiency, competition and modern tactics.
Having roots in the past doesn't necessarily make AS/400 outdated; it gives it a strong base from which to grow, and it boasts a staying power that most modern technologies cannot. It has stood the test of time, especially as so many industries that rely on the system continue to fight for its relevance. Safety and security are more important than ever in freight, and AS/400 keeps proving itself a worthy defender.
As the discussion around AS/400 continues, it's critical to work with partners who are familiar with this technology. At DDC FPO, we're committed to helping you work with the technology you already have, understand your business' unique needs and grow alongside you.
Contact us today to learn more about DDC's IT Outsourcing services and why we're the right partner to meet your programming and development needs.
How Can We Help You?
Get in touch to learn how we can support your success.
Get Started
Subscribe to Our Blog