CASE STUDY: VOLPE EXPRESS
OPTIMAL BUSINESS HEALTH WITH IMPROVED TIME AND TEAM EFFICIENCIES AND LONG-TERM COST CONTAINMENT
VOLPE EXPRESS: A FAMILY-OWNED PROVIDER OF LTL AND TRUCKLOAD SERVICES
Based in Pennsylvania, fourth-generation family-owned Volpe Express, now Volpe Dedicated, offers less-than-truckload (LTL) and truckload services. With more than 300 employees, the carrier is still committed to its original founder's business mottos of "Service with a smile that satisfies," "Give the customer the best service possible," and "Once a commitment is given, accomplish it at all costs."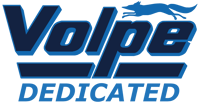 Volpe Express benefited from greater reporting visibility, higher quality metrics, and increased productivity after implementing DDC FPO's back office management system.
THE CHALLENGE: IMPROVE QUALITY OF SERVICE BY TRANSFORMING CRITICAL BACK OFFICE FUNCTIONS
Volpe's billing system was paper-driven, costly and time consuming. Quality inefficiencies were causing a domino effect that was even more detrimental than the initial cost issue. The carrier needed technological upgrades that would improve crucial back office functions, streamline efficiencies and offer a modern system to make them more competitive in the industry.
It's working extremely well. Typically in a system and department transition such as this, we would expect several bumps in the road. On the contrary, there has been very little to fix, and we are quite pleased with the results.
THE SOLUTION: UNLOCK GROWTH AND SUCCESS BY IMPLEMENTING A CUSTOMIZED AND PROFICIENT BACK OFFICE MANAGEMENT SYSTEM
While upgrading its entire IT and voice infrastructures, as well as its user interfaces, Volpe Express began working with DDC to build a separate, secure web page that would allow DDC billers to seamlessly log in and efficiently conduct high quality bill entry processing and reporting. The back office management system allows for around-the-clock bill entry processing and reporting through a cloud-based portal, improving quality and efficiency while reducing costs.
GOALS ACHIEVED
Established Seamless Bill Entry Interface

Improved Quality Inefficiencies

Created Efficient, Around-The-Clock Bill Entry Processing And Reporting

Enhanced Employee And Client Experiences

Streamlined Critical Back Office Processes

Deployed A Harmonious Transition Between Departments
SUMMARY
DDC's back office management system improved Volpe's quality issues, established a structure for bill-entry processing and reporting, lowered costs, and improved time and labor efficiencies, all with a smooth transition that gave different departments peace of mind.