New industry research uncovers how leaders in the supply chain are reprioritizing for the rest of 2020 and into 2021 due to the novel coronavirus pandemic ("COVID-19").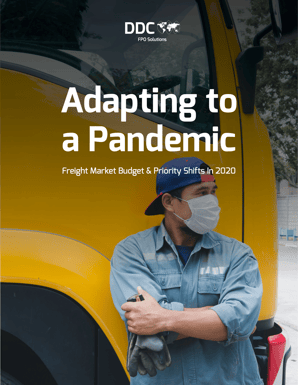 The data featured in the comprehensive report, Adapting to a Pandemic: Freight Market Budget & Priority Shifts In 2020, was compiled from an industry survey responded to by executives and decision makers who preside over and represent manufacturers, warehousing and distribution centers, motor carriers, 3PLs or brokers, and freight technology providers.
The report identifies the trending areas of impact within organizations, the degree of disruption, and to what
initiatives dollars are being reallocated.
For example, over three-fourths (76.4%) of
respondents have significantly shifted their planned spending activity for 2020 from their initial budgets due to the pandemic's impact on the supply chain.
The study also highlights recurring themes throughout responses in regards to process management.
According to Donna Kintop, Senior Vice President of Client Experience, "As a result of the pandemic, many companies are now pursuing operational efficiency with vigor."
To download the full report for free, click here.
We don't take our role as the industry's most trusted back office partner lightly. As you dive into the report and learn how you can best optimize your plans, here are some additional resources to help:
Global crises like this pandemic can potentially create  opportunities  for fraud, corruption and Black Market activity – including theft or ransom of sensitive client data and classified financial records. Transportation and logistics providers are not immune to this threat. Learn more about the risks COVID-19 poses to your data security and how to protect your business with this insight from DDC's own data analytics team.

If you are considering BPO for future business continuity amid COVID-19, possible future pandemics or any other crisis, our experts strongly advise that you prioritize these criteria in your search.
This recent LTL Market Update ft. DDC's own Donna Kintop covers trends in volumes, rates and capacity, and forecasted changes due to current and predicted events.
This webinar we recently presented dives deep into the data for exactly how, where and when this pandemic hit the global supply chain the hardest.

Volumes are fluctuating up and capacity is tightening. DDC's Chad Crotty and FreightWaves' Zach Strickland cover what specific items LTL carrier and carrier partners need to address, short and long-term. Watch the full video now.
DDC has remained open, operational and committed to serving our clients since Day One. We have not stopped supporting the business continuity of our carrier and 3PL partners throughout this pandemic. To learn more about our business continuity and how we help keep things moving for freight companies in North America, click here.