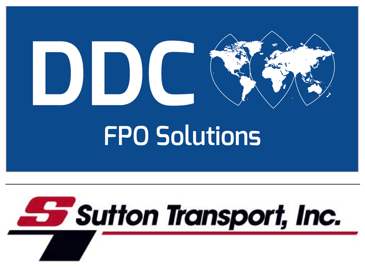 Sutton Transport cites improved accuracy rates, eliminated biller turnover and a 44% reduction in annual costs of their freight billing process since signing on with freight back office partner DDC FPO.
Leading Midwestern private carrier Sutton Transport announced this morning the improved operational efficiencies and elimination of biller turnover for their freight billing process with freight back office partner DDC FPO. As a result of this partnership, the carrier projects an annual 44% in cost savings that can be dedicated to other core business matters.
Established in 1979, family-owned and operated Sutton Transport is the largest LTL service agency in the state of Wisconsin –with operations throughout the Midwest. Wanting to resolve the historically high turnover of nighttime billers in their freight billing department and improve accuracy levels, the carrier decided to look at partnership options with freight billing outsourcers. Through the recommendation of a partner carrier and client of DDC FPO, Sutton Transport chose to begin discussions with the freight process outsourcer.
DDC FPO has become well-known in the freight and logistics industry as #1 for providing customized freight solutions in North America. Processing over 30% of all LTL bills in North America, their expertise in improving the operational efficiencies of the freight billing process and reducing biller turnover was of immediate benefit to Sutton Transport.
Working closely with Sutton Transport to develop a succinct, customized billing process to meet the needs of the carrier, DDC's back office experts developed standardized metrics and an efficient billing process. As a result of these streamlined efforts, DDC is achieving consistent accuracy levels of 99.88% -exceeding SLA expectations.
The unique model of DDC's onshore management team allows Sutton Transport to maintain close communication with their offshore billers 24/7/365. As a result of this customized global reach, the carrier has managed to not only see improved accuracy rates, but biller turnover previously experienced is no longer a concern.
Since outsourcing the billing process to DDC FPO, "we are now able to concentrate on other core business matters," noted Samantha Sutton of Sutton Transport. DDC FPO VP of Sales, Chad Crotty, noted, "Our business goal is to improve operational efficiencies and reduce costs for our clients. We are pleased to report that we are achieving this goal with Sutton Transport and look forward to growing our partnership for many years to come."