FAQs: Answers to All Your Questions About DDC Sync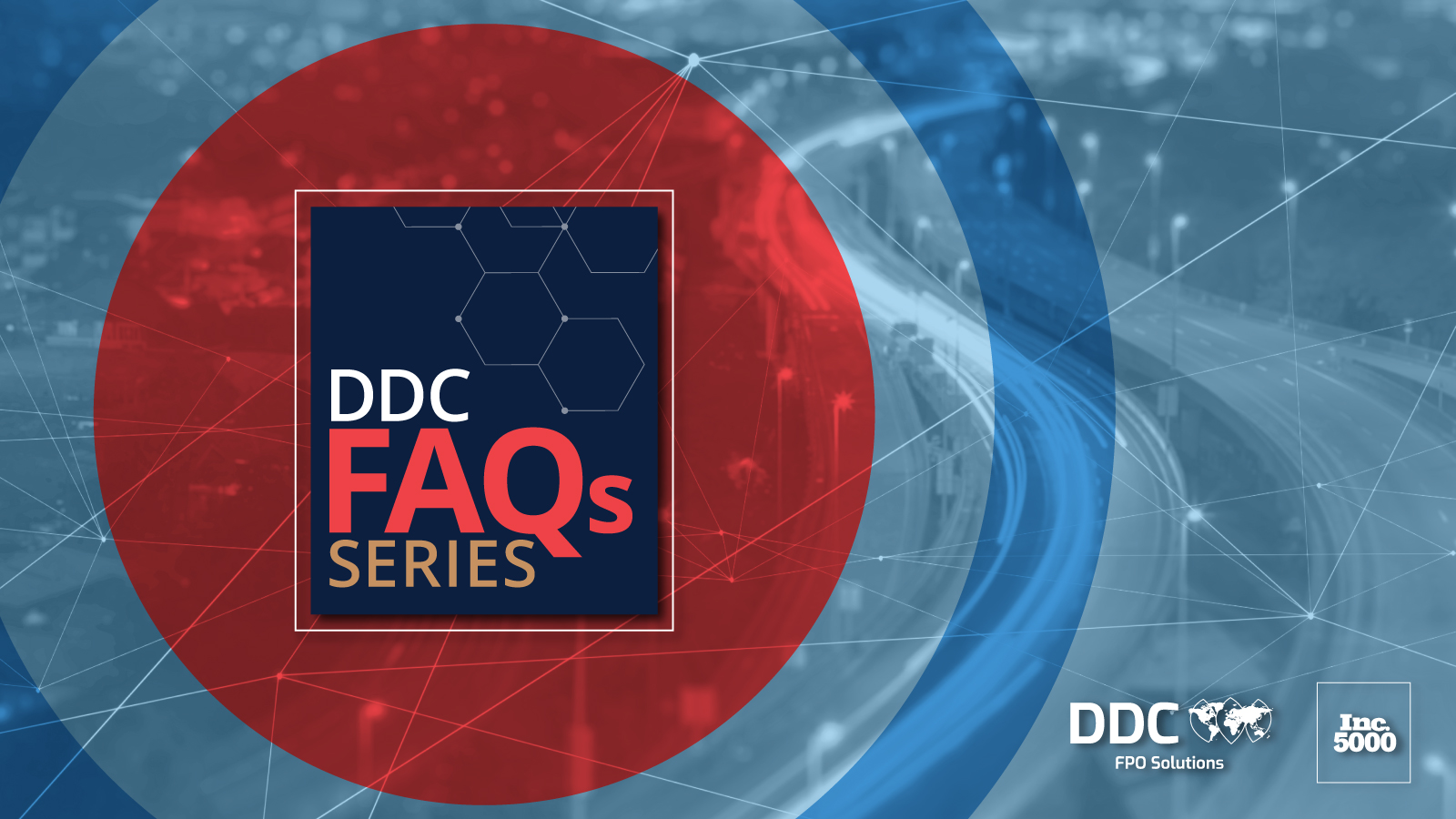 Motor carriers are constantly seeking ways to boost efficiency. DDC Sync connects every segment of freight operations, enabling motor carriers to streamline cross-dock operations, reduce human error, accelerate cashflow, cut hours from their linehaul, increase driver retention, and grow margins.
Due to a sharp increase in questions being asked by Freight Process Insights subscribers, the FPI team has decided to compile answers to those most commonly asked in this article. FAQs for other solutions are also being provided as part of this FAQs series.
What does DDC Sync do?
DDC Sync enables carriers to become more efficient while increasing internal and external transparency. As an app-based solution, DDC Sync transmits bills of lading (BOLs) data in near time, providing carriers critical information in a time-sensitive manner. Carriers can now achieve more effective load and route planning and cut costs on the road, all while building a close-knit driver community
What are the advantages of DDC Sync?
One of the most loved benefits of DDC Sync among motor carriers is that it allows clients to obtain critical data instantly. On average, bill of lading (BOL) data is received and ready to use approximately six hours quicker with DDC Sync than with traditional capture methods. By gaining back six hours of work time, carriers can optimize load planning, proactively plan warehouses, and prevent unnecessary labor costs. In addition, the app has many adoption-driving features that double as team builders and morale boosters. This includes gamification, the driver community, and company news features. Other aspects that have received overwhelming positive feedback include: Unbeatable image quality, ease of use / intuitive user interface, portal data visualization dashboards, and full customizability and white labeling possibilities.
Is DDC Sync limited to the LTL/trucking market?
There is no limit as to where DDC Sync can be used. It can benefit a range of different industries. The current model released for motor carriers focuses on the BOL, but the technology can work with any document type.
Can DDC Sync be tailored to the needs of each client?
Yes, DDC Sync can be tailored to the client's needs. It was designed to be flexible and provide full customization. From capture rules to gamification, the company news feed, driver community, portal dashboard and reporting, and even the template theme, the entire experience can be tailored. Some motor carriers prefer the white label option to truly make DDC Sync their own.
My company already uses another driver app. Why should we use DDC Sync?
On average, across carriers who already use other apps in-cab, DDC Sync provides a six-hour gain in visibility and access to freight data per shipment. This is due to the data being captured, processed, and immediately transferred to the DDC Sync portal for usage by leadership, operations management, and terminal administrative staff. Additionally, the image quality and user interface of DDC Sync have both been compared against other BOL capture apps in the market. Per feedback by leading motor carriers, these aspects, among others of DDC Sync, have greatly surpassed the performance of other apps. The image quality alone cuts significant time previously required in back office administrative work. When not replacing other in-cab products, the DDC Sync technology has proven to serve as a tremendous complement to your already in-use tools.
Can I choose which parts of DDC Sync I need at this time?
Yes. DDC Sync was designed so that it can be incorporated into other mobile applications and web portals if necessary . For example, you may see a need for the capture and gamification pieces of DDC Sync but not see a need to incorporate the news functionality or driver community groups at this time. You might already have a GPS or issue escalation in the cabs of your fleet. In this case, motor carriers are able to acquire certain parts of the DDC Sync technology that benefits them most.
How does a driver use DDC Sync to scan a BOL?
DDC Sync uses proprietary smart OCR technology. First, the driver will scan the bar code on the BOL; this allows for auto-population of the pro number field of the BOL. Next, the driver will snap a photo of the BOL by aligning it with the augmented reality border on the capture page. We have created this augmented reality border along with a depth control border, showing drivers the optimum distance needed to get a quality picture. DDC's capture technology is what delivers the best-in-class image.
What are the minimum specifications for acceptable use of DDC Sync?
Operating System: Android only (iOS coming soon)
Version: Android 11 operating system or above
RAM: 4GB or above is recommended
Storage: 64GB or above is recommended
Security and OS Updates: Minimum of Android 4.4.4 is recommended; preferred: 6.0.1
Processors: Intel Atom® processor Z2520 1.2 GHz, or faster processor is recommended
Memory and Storage: Minimum of 512 MB is recommended; 2 GB is preferred with a minimum of 1GB of storage
Camera: Minimum of 12.2 MP is recommended; additional features of dual-pixel, auto-focus with dual-pixel phase detection & optical + electronic image stabilization are preferred
Wireless and Location (Optional): Wi-Fi 2.4 GHz + 5 GHz 802.11a/b/g/n/ac 2x2 MIMO, Bluetooth® 5.0 + LE, A2DP (HD codecs: AptX, AptX HD, LDAC, AAC)7, GPS, GLONASS, Galileo, QZSS, BeiDou
Why is DDC Sync only compatible with Android devices?
The first version of DDC Sync released was initially launched to the LTL market. Based on DDC FPO's extensive experience and knowledge of this sector, Android was overwhelmingly the primary device to begin with. However, iOS compatibility is on our development roadmap.
Where can a driver review previously submitted BOLs?
Previously submitted BOLs are stored and easily accessible in BOL Management. You can find this button on the home screen. Successfully transmitted BOLs are listed with the date and time sent. Captured scans that are awaiting submission are listed under this tab in the app.
Why is a BOL listed as pending?
Poor cellular reception on a driver's route can cause a scanned BOL to be listed as "Pending." DDC Sync will automatically attempt to resubmit the scanned BOL once cellular reception improves. The driver does not need to take further action if a BOL is listed under pending and can continue driving to their next destination.
What happens if a driver has poor cellular reception?
DDC Sync will automatically attempt to resubmit the scanned BOL once cellular reception improves. Until a scanned BOL has been successfully submitted, it is simply listed as "Pending." There is nothing else a driver needs to do in this situation.
Why does DDC Sync not work while a driver is actively driving?
For safety reasons, DDC Sync is restricted when a truck is in motion. If a driver tries to use DDC Sync when in motion, they will receive a message encouraging him or her to try again once the truck is stopped.
What is the gamification feature?
Motor carriers have the option for drivers to be enrolled in a customizable gamification feature of DDC Sync. This feature promotes user adoption by fostering friendly competition among the drivers. For example, drivers will be able to view their position on a leaderboard, updated daily, with points awarded based on the percentage of successful BOL submissions submitted daily. Badges are also created and published to recognize successful drivers in the company news feed and/or in the driver community, based on client preferences.
Points are deducted for rejected submissions to encourage the driver to ensure that they are submitting good-quality images to be processed.
What is the News section?
The News section of DDC Sync helps drivers stay connected to senior management via a newsfeed containing company announcements, internal developments, weather warnings, and other related information.
The News section is also utilized to announce the Driver of the Month, Driver of the Week, Most Improved Driver and other recognitions if the carrier opts for the gamification feature.
What is the Driver Community?
The Driver Community is an optional online platform where drivers with mutual interests can socialize and discuss relevant topics. Group creation can be limited to administrators only, or drivers can set up groups themselves. Examples include sports fan groups, coffee stops along a popular route, health tips for life on the road, safety alerts, and more.
How is the Driver Community regulated?
There is a system in place that checks for inappropriate language or content (including photos). Any attempt to post such content is blocked, and the user cannot post. The regulation is customizable per client requirements.
What is the portal?
The portal is an integral part of DDC Sync. It gives access to terminal staff and senior management to get an overview of their driver's location, automated reports, images of BOLs, and other visualized data reports that can be used to plan more efficiently and effectively.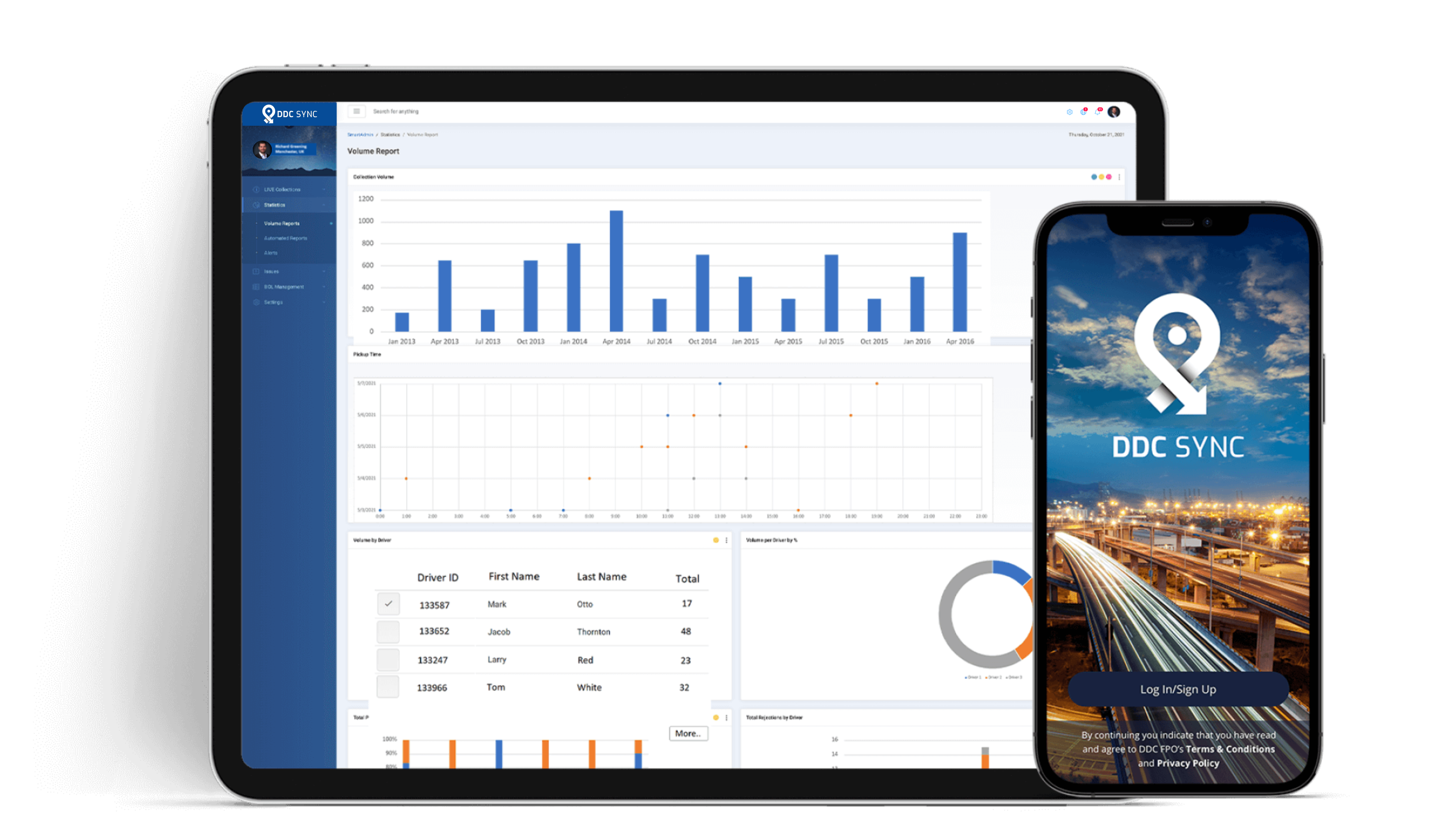 Connect With Us
Have your questions about DDC Sync? Contact us to learn more about how DDC Sync connects data, people, and processes.
How Can We Help You?
Get in touch to learn how we can support your success.
Get Started
Subscribe to Our Blog