Freight Forwarders Tap Customs Brokerage Services For Competitive Edge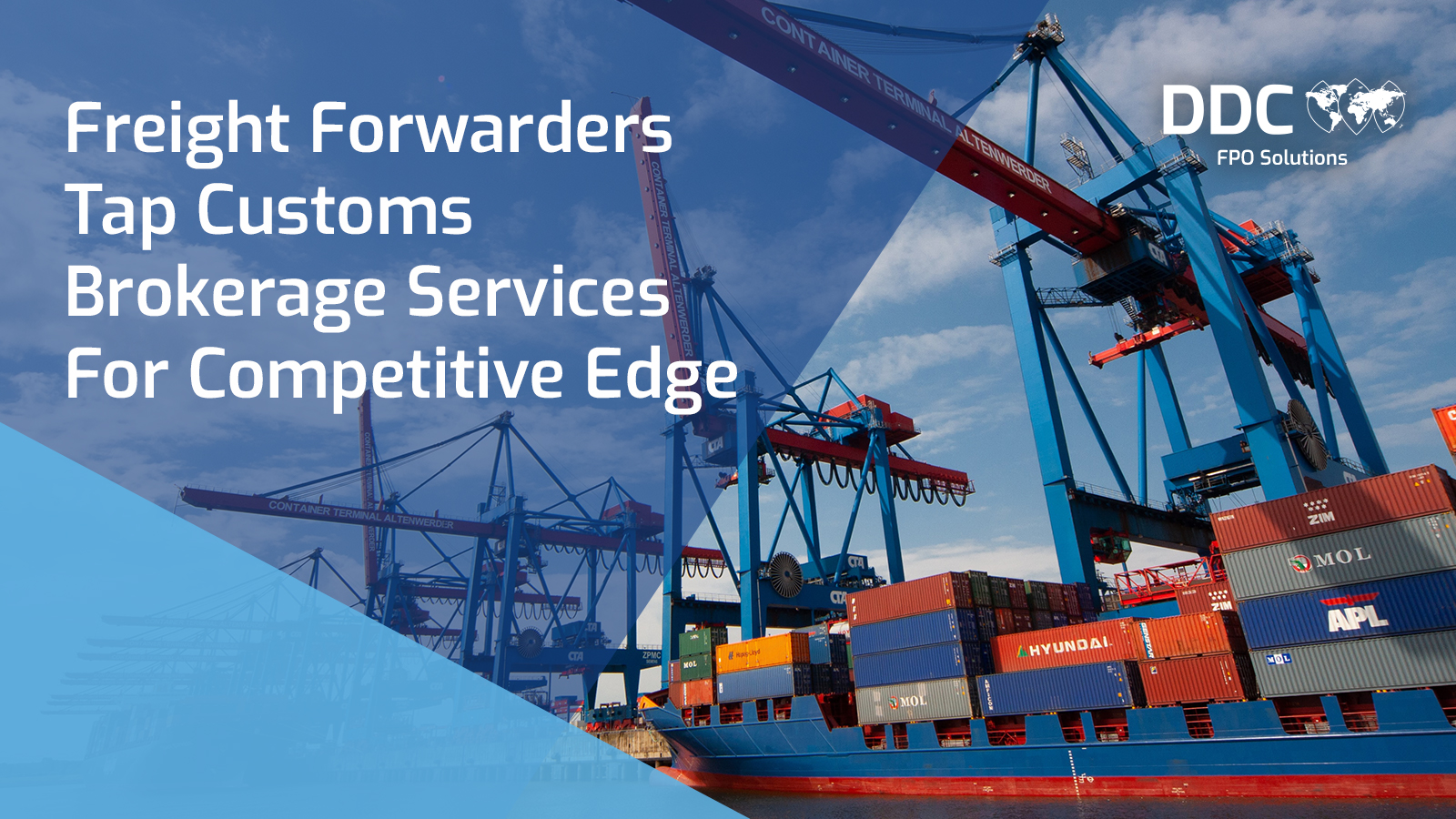 Parallel to recent ripples in the global supply chain initiated by unplanned events, there has been an uptick in movement by international freight forwarders and 3PLs to contract out a wide array of customs brokerage services, rather than investing heavily in internal resources. Why is this happening?
In a review of market activity, there appear to be four primary goals, or overarching themes, that are driving these trends.
1. Tackling t
he abundance of
paperwork to
clear
customs
Companies that ship internationally are taking advantage of external support offered by third parties to help with the plethora of paperwork and red tape often found at the border. According to Shipping Solutions, there are 8 pieces of documentation to be apprised of when taking cargo through customs:
Proforma Invoice

Commercial Invoice

Packing List

Certificates of Origin

Shipper's Letter of Instruction

Bills of Lading

Dangerous Goods Forms

Blank Drafts
The industry is experiencing thinner margins universally, which means that resources are lean. Skeleton crews are stretched between all corners of an organization to keep it above water as volumes fluctuate. Adhering to customs compliance requirements and implementing best practices for clearance is one heavy burden that freight forwarders can place on the shoulders of an outside vendor.
Brexit Alert: Transportation and logistics providers that are based in the United Kingdom and/or countries of the European Union or engaged in trade between these two regions will need to begin preparing for changes that will take place as early as January of 2021. The UK's tax authority has estimated that firms will need to file 400 million extra customs declarations annually. With that significant increase in paperwork, implementing a program now will be a lifesaver for your business in a post-Brexit landscape. Psst - Stay tuned for more educational resources on this coming soon
2. Proactive error identification for seamless transport of cargo
Shipment rejection is one of the most commonly experienced issues in international shipping. Therefore, forecasting errors in customs brokerage is imperative. Identifying risk areas in your documentation and having a plan in place to prevent those setbacks not only reduces your service delivery time but will help you stay on top of regulatory compliance and protect you from customs fees. Just one mishap can cause a very expensive investigation and audit, and a resolution can take years.
In order  to  avoid revenue disruptions, it's crucial to make sure all fields are complete and accurate.

Therefore, data processing for customs documentation is another area where companies are recruiting outside assistance from a vendor. These partners will conduct their due diligence in the interest of the transportation and logistics provider and leverage virtual library and glossary systems as necessary to stay up to date on tariffs, classifications, and regulations.
Bonus: Oftentimes, vendors will also alleviate the stress by dealing with customs' officials for you directly. BPO companies like DDC with multilingual data processing services can address field discrepancies with customs for you in a number of languages.
3.
Greater yield with enhanced technology
The use of technology in freight is not a new concept, but advancements in tech are imperative to increase margins and cut data entry errors for customs brokerage.
New technologies and automation services designed to make shipping across borders faster and more efficient by providing cost estimates, information about trade regulations, and licensing requirements ahead of time. Forwarders can stay ahead of the automation curve by prioritizing data quality and interface functionality from the onset. Inbound Logistics points out that keeping shipments secure and safe, and prioritizing compliance with international airport and port security requirements, demands best-in-class technology and processes.
The right technology provides greater flexibility and increased adaptability in international shipping, by:
Simplifying complex and outdated processes
Managing daily tracing reports and updating shipment data
Confirming compliance with the necessary customs regulations
Data matching against packing lists to ensure accuracy
Recent DDC industry research found that 41.5% of industry leaders shifted budgetary spending in technology/IT since the onset of the novel coronavirus. "As a result of the pandemic, many companies are pursuing operational efficiency with vigor and are looking for ways to increase connectivity and communication with external resources," said Donna Kintop, SVP of Client Experience.
4. Dependable business continuity across borders
External support in the customs brokerage processing arena also helps cross-border transportation and logistics providers prepare for the challenges that lay ahead, whether it's new Brexit regulations, a coronavirus vaccine hitting the supply chain or a controversial government election affecting global trade.
Business continuity and  recovery planning are essential to minimize disruption, protect data and ensure the safety of everyone involved with minimal damage to operations. By contracting out specific customs brokerage services, forwarders are able to shift this burden to their vendors, who can work through the complexities of getting cargo delivered to the destination on time while simultaneously keeping an up-to-date workflow management plan.
A recent study by Mercer has identified that nearly 51% of companies fail at successfully implementing a business continuity plan. DDC's Customs Brokerage Processing experts prioritize transparency and timeliness in our service delivery and our communication while protecting the promises you've made to your customers.
We improve our partners' profitability rating, customize programs that work for each business model, and significantly reduce costs across the board.
Other resources on International Shipment Processing:
Connect with Us
Discover customs brokerage processing services that ensure times clearance of international shipping through customs.
How Can We Help You?
Get in touch to learn how we can support your success.
Get Started
Subscribe to Our Blog